Everything is happening fast. Sometimes too fast. Companies that do not constantly innovate disappear. A Kodak moment is now, not only a moment that should have been captured by a picture. But also an expression describing an industry or business that gets turned on its head thanks to rapid change. Digitalization and new technologies like blockchain, improved AI and robots are changing everything.
Being a leader in this environment is not easy. You need to keep up to date, innovate, make sure your team is happy and at the same time stay profitable. Add to this your personal life. You need time to exercise, meditate, take care of the family and watch the latest season of Game of Thrones. There is a constant flow of information and you can be reached 24/7.
The solution
Funnily enough, we have access to all the information we need to be happy, successful and productive. This has been studied over decades and we know what we need to do to make it happen. Yet most people are struggling. If you read this I believe you are ambitious. You want to improve and you want to make it better. And there is a way.
It has been said that "In the age of information, ignorance is a choice". Finding the information is no longer the problem, the problem is finding the right information and implementing this into your daily life. This is the purpose of the Strategic Tech Coaching system – help you implement the best strategies into your daily life with the help of coaching and technology.
Inspiration, information and implementation
In Strategic Tech Coaching we work with the 3I formula. First, we need the inspiration to change. Secondly, we need to find the right information, a good strategy. Thirdly, we need to implement that strategy into our daily lives. Throughout this process, we use technology and coaching to make sure there is a shift. The strategies we use are proven and tested.
Strategic Tech Coaching framework
Apart from the 3I formula, we use a framework to make sure our clients implement. This is a tool that has been developed and tested over the last 10 years. With the 3I formula and the STC framework results are guaranteed.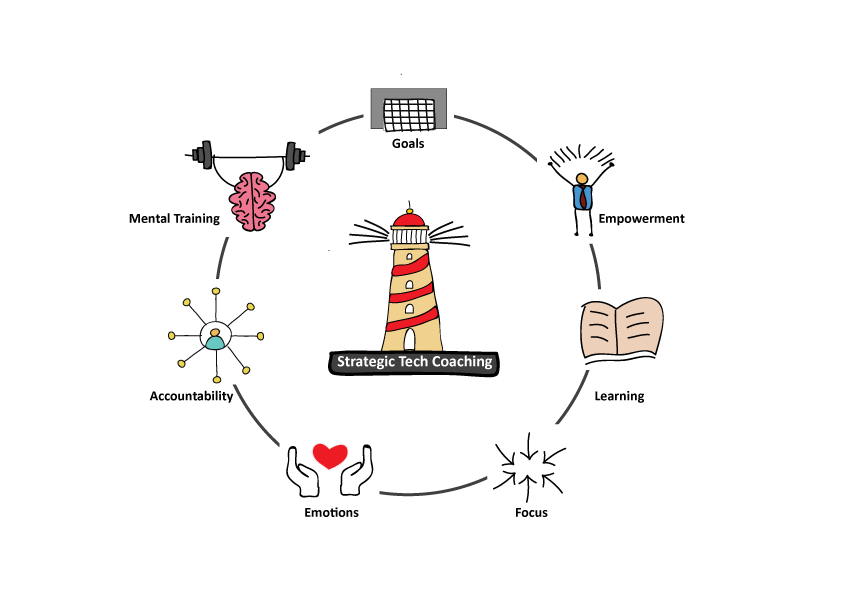 Current Strategies
Strategic Tech Coaching is always evolving. New strategies are constantly researched and tested. These are some that we currently use:
NLP
Mental Training (Lars-Eric Uneståhls method)
Positive Psychology
Mindfulness
Entrepreneurial thinkers like Eben Pagan, Dan Sullivan, Rich Schefren, Brendon Burchard, Dan Kennedy, Peter Diamandis, Richard Koch.
Business thinkers like David Allen, Daniel Pink, Simon Sinek, Peter Drucker, Jim Collins.
If you are interested in our 1-1 coaching program this video explains more.
The best way to learn more about Strategic Tech Coaching is by listening to the podcast. Episode 13 gives an overview and background to the method. Listen here.
Vision and moonshot
Making the world better by sharing the best strategies for a happy, successful life
By 2040 Strategic Tech Coaching has inspired more than 1 billion people to a better life.
Is there any strategy that you recommend that we should look into? Let us know.
Strategic Tech Coaching is a coaching methodology developed by Chikara Consulting FZ. 
About the founder Oskar Andermo
STC is developed by Oskar Andermo. The original purpose was to help him to bridge the gap from inspiration to implementation. He noticed how he fell for the trap: getting inspired but lacking the daily implementation that is required to see change. After experimenting with many techniques, he released the book the Smartphone Coaching System in 2013. Strategic Tech Coaching is the continuation of this project and is now a complete LMS – life management system. Over the years, Oskar has collected the best strategies for a happy, successful and productive life and developed innovative ways to use technology to implement them. The system is under constant development. Oskar holds many certifications (coaching, NLP, positive psychology, mental training, mindfulness, Pekiti Tirsia Kali ++) but more importantly, he has tested the strategies in real life. As an entrepreneur, speaker and coach.
Because of this innovative approach, both Oskar and STC have been featured regularly in various media. Here you can find some.
Oskar is an advisor and business coach to several start-ups. One of the latest projects is a search engine for the tech suppliers for the hospitality industry.